OMR stands for Optical Mark Recognition. This popular recognition technology is used for collecting data from "fill-in-the-bubble" forms such as educational tests, surveys, assessments, evaluations, and many other multiple choice forms.
OMR has been widely used in education since the 1960s and is still popular today.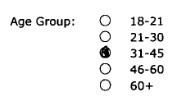 Optical Mark Recognition enables the respondent to select an answer to a question by filling in a "bubble" or "mark" associated with an answer choice. For instance, in the image below the respondent filled in a bubble to indicate that they are in the age group of 31 to 45.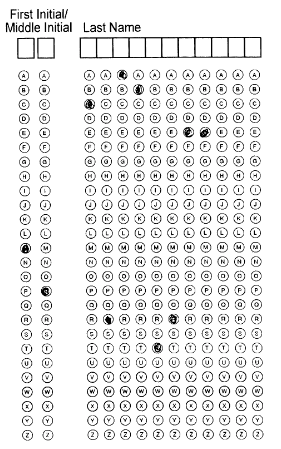 In addition to multiple choice kinds of data, OMR can be used to capture names, ID numbers, and other non-multiple choice data as illustrated below. In this case, the respondent filled in his or her name as "KP CRABTREE". Collecting this type of data with OMR is much more accurate than trying to recognize a respondent's handwritten name.
Although OMR technology has been around a long time, the technology has evolved. Traditional OMR systems require special OMR scanners and pre-printed forms. While a good technology, it is expensive and typically limited to very high volume applications. It was in 1991 when Gravic, Inc. released the first version of Remark Office OMR, the first plain (copy) paper OMR software solution. It has evolved over time to expand in order to meet the needs of our diverse customer base. Since 1991 Gravic has helped tens of thousands of customers quickly and easily collect data from tens of millions of OMR forms that they create and print themselves.
OMR can be confused with other types of recognition including; OCR (Optical Character Recognition) – Reading machine printed characters and ICR (Intelligent Character Recognition) – Reading handwritten characters.
OMR software and solutions we offer:
For more information: