GB Biosciences is part of a global agricultural company, Syngenta. Kim's location is a chemical plant that makes an anti-fungal agent. She is part of an HSE (Health, Safety, Environmental) committee that takes suggestions, observations and complaints from plant employees as a way of catching things before they become an issue.
The Challenge
GB Biosciences needed a way to simplify the collection and analysis of their behavioral-based safety observation cards and surveys. They had an administrative assistant manually typing the survey card data into an Excel spreadsheet with no real way to track their items. This was very time consuming and made it very hard to expand.
The Solution
Kim found Remark Office OMR to simplify and automate the processing of their observation cards and safety surveys. Kim says she chose Remark Office OMR because of the "ease of use, cost effectiveness and great customer service."
Remark Office OMR allows GB Biosciences to create their own custom observation cards and surveys. With some slight modifications, Kim was able to adjust their existing observation card to make it scannable with Remark Office OMR. The Remark Software support team provided form design best practices and free form reviews to assist with setting up her forms.
O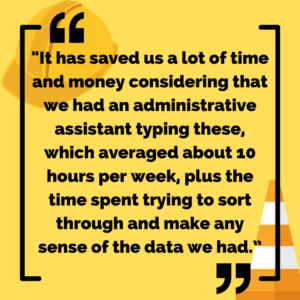 nce her forms were set up and ready to go, completed forms were scanned using image scanners. The software pulls the data from the completed forms and presents it in a simple spreadsheet style view. Operators then view the completed form images and data for verification and cleaning if needed. The data is exported from Remark Office OMR to their Access database reporting system. Kim's team uses a Remark Office OMR automation file at each of their locations to automate the processing of their observation cards and exporting the data to their Access database reporting system. By using the automation file, Kim is able to simplify the process into fewer steps for her team members.
Kim says, "It has saved us a lot of time and money considering that we had an administrative assistant typing these, which averaged about 10 hours per week,
plus the time spent trying to sort through and make any sense of the data we had."
Favorite Feature
"We can use any size paper, any scanner, and change the template as often as needed."