Introduction
Find out why Lori Synhorst loves Remark Office OMR after she made the switch from manual survey tabulation to Remark for her thousands of surveys.
The Challenge
The special education and communication disorders (SECD) department at the University of Nebraska-Lincoln often conducts large research projects. These projects use surveys as a means of collecting data. The data would then be manually entered into a Microsoft Excel* spreadsheet. The procedure became extremely long and tedious, as thousands of surveys had to be processed. Lori Synhorst, director of the data center in ACFW, looked to upgrade the process, wanting to record the data quicker and easier.
The Solution
Lori had considered subcontracting the scanning duties, but Remark Office OMR's ease of use and affordability ultimately won her over. Once she quickly learned the basics of template building, the process became quite easy.
Remark Office OMR is especially appreciated by the Academy when it comes to the extensive studies they perform. Previously, ACFW performed a five year longitudinal study in which they regularly collected data from thousands of participants over the course of the five years. As a result, a large amount of data quickly accumulated. Trying to enter this data into Microsoft Excel by hand would take a long time and could potentially halt the progress of the study. Thanks to Remark Office OMR, this was not the case, as the software read the data in very little time. Furthermore, the data was processed into several different reports using Remark Quick Stats. Remark Office OMR saved a great deal of time and allowed the Academy to proceed with their research.
Favorite Features
Lori loves how easy it is to scan forms into the software. Moreover, she likes the ability to see what has been scanned. She also really likes the color-coded highlighting that checks scans.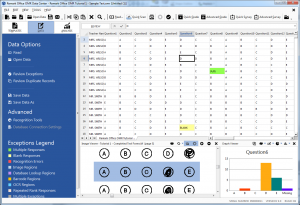 *Microsoft Excel is a registered trademark of the Microsoft Corporation.