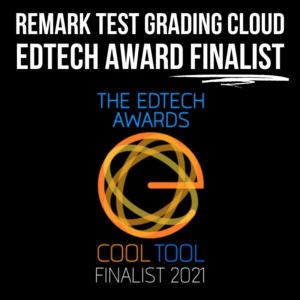 Gravic, Inc is proud to announce that Remark Test Grading Cloud was a finalist for the 2021 EdTech Digest Awards under the category "Testing & Assessment Solution." The EdTech Digest is a publication focused on highlighting the innovators, leaders, and trendsetters across the realm of education. Their yearly EdTech Awards recognizes companies in and around education for outstanding contributions in transforming the field through technology and enriching the lives of learners everywhere.
Remark Test Grading Cloud is an advanced grading solution created by Gravic's Remark Team. The hosted application allows teachers to create their own custom assessments, and distribute the assessment on paper or online. Grades are received by either scanning the paper forms, or via online submission, allowing the teacher instant access to powerful reports for every class, student, question, comment, and answer selected. For the past year, Remark Test Grading Cloud has been tirelessly working to be the best testing solution on the market, expanding our online testing capability by adding timed tests, the ability to email student feedback, and adding more options when administering online tests than ever before.
Furthermore, we add this to our list of recent accolades, having won a THE Journal Award, and a Campus Technology Award late last year.
To learn more about Remark Test Grading Cloud, please contact our sales team at [email protected] or 1.800.858.0860. You can also request a free trial or sign up for a live webinar. We look forward to hearing from you!