The Remark Team is happy to announce the immediate release of version 7 of our widely used Remark Classic OMR software! Used all over the world in schools, universities, government agencies, and corporations, Remark Classic OMR saves users hours of time by streamlining the collection of data from tests, assessments, surveys, and other forms using popular OMR scanners.
As always, we have listened to requests from our customers and partners and tried to address as many of your requests as possible in the new release. Thank you for your continued suggestions!
Remark Classic OMR 7 adds many new features and enhancements including: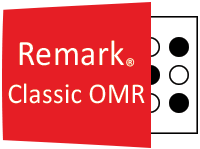 Support for Image Clips: If using a scanner that supports capturing images, you can now clip an area to review, such as handwritten comments. The handwritten information appears on select reports.
Advanced Data Validation: A Data Validation tool was added to the Data Center so that you can create advanced ways to validate data that was collected from your forms. Based on the questions on your form, you can write rules to ensure that the data filled on the form is valid. For example, there may be questions that should be left blank depending upon a response to a previous question. Advanced Data Validation can catch these issues so that this data is not aggregated into a report.
Optimization Enhancements: A feature was added to assist with optimizing the software for larger data sets. In addition, the initial load time for the product was enhanced.
Learning Objectives Update:

The following reports now have a preference to show the overall score and/or the learning objectives: 101 Student Statistics Report, 102 Comparative Grade Report, 103 Class Frequency Distribution, 104 Student Score Histogram Report, 107 Demographic Grade Report, 112 Student Achievement Report, 150 Student Grade Report.

Student Response Report Update: An option was added to the Student Response Report that allows you to choose between displaying the response text and the points awarded.
Incorrect Response Report: An Incorrect Response Report was added to show detailed information about questions that were answered incorrectly on a test.
Updated Scanners: Includes support for the Sekonic SR-8000 Hybrid scanner and updated drivers for other models.
Remark Classic OMR 7 can be purchased from Gravic or your local dealer. For current Remark Classic OMR customers with a valid maintenance agreement, Remark Classic OMR 7 can be downloaded and installed at no cost through the software's check for updates functionality. Alternatively, you may request a quote to upgrade from an older version.
Want to learn more about Remark Classic OMR 7? Contact The Remark Team at [email protected] or 1.800.858.0860. We look forward to hearing from you!