When it comes to the vast world of data collection, there are several important acronyms you need to know. Over the past thirty years we have explained these acronyms to thousands of customers. Three of the most important acronyms you need to learn are OMR, OCR, and ICR. These are acronyms for three different recognition technologies heavily used in forms processing applications. Depending on your needs, you may require one, a combination, or all three to properly collect the data from your forms. Below is a helpful look at these three acronyms, what they mean, and the ways they are relevant to you.
OMR
OMR stands for Optical Mark Recognition. OMR allows you to read any "fill-in-the-bubble" type forms. Tests, surveys, elections, questionnaires, course evaluations, and many more types of forms require the use of OMR. Traditionally, OMR forms were read using specialized scanners and forms and often required respondents to use special pencils to fill in those forms. With the advent of software OMR solutions, first introduced in Remark Office OMR, there are no such constraints. You can create your very own forms using any word processor, and print them on plain copy paper. Forms are scanned with any scanner and respondents can fill in their forms with most any writing implement. For more information on OMR, check out this detailed page with an in-depth look at the technology.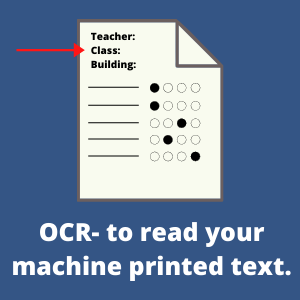 OCR
OCR stands for Optical Character Recognition. OCR allows you to read machine-printed characters. Oftentimes, OCR is used to convert printed documents into text for editing in a word processor. In a forms processing application, OCR offers an easy way to capture information preprinted on the forms, such as ID numbers, class names, building numbers, and other demographic information. Depending upon what is preprinted on the forms, the printing process may require using techniques such as mail merging where unique data can be pulled from another source and printed on each form. This obviously makes the printing job a bit more complex but is a very powerful feature for printing variable data on forms. For more information on using OCR fields in Remark Office OMR, read this blog post to learn just how quick and easy it is.
ICR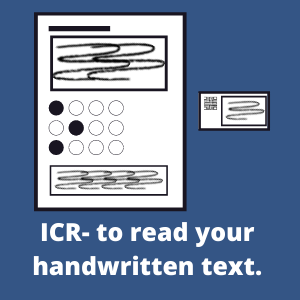 ICR stands for Intelligent Character Recognition which is a fancy way to say it is reading handwritten text. ICR is quite powerful but is the least accurate of the technologies as there are so many variables when reading handwriting. Sometimes even humans have difficulty reading another person's handwriting. In forms processing, ICR is great for reading comments from their respondents, or for reading names, addresses, or other similar demographic data handwritten on forms. With the release of Remark Office OMR 11 this feature is now available for anyone with a Microsoft Computer Vision account. For more information about how to set up your Microsoft ICR account with Remark Office OMR, check out this page.
Wrap Up
If you have a forms processing task, it is important that you choose the right recognition technologies and the right product for your needs. Of the three technologies covered, OMR is the fastest and most accurate, followed by OCR, and then ICR. Especially with ICR, it is important to realize that there will be some handwriting that is just impossible to read and you will have to do some clean up in your data after processing.
Have a question about OMR, OCR, or ICR we haven't answered? Then simply contact The Remark Team at [email protected] or 1.800.858.0860 to learn more about these technologies, and how our line of Remark products can help you with your needs.