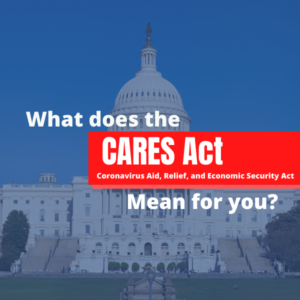 This piece is a part of a larger series of posts we've written about educators around the world working from home. To read more articles like this, check out our blog archive.
Educators and administrators across the United States are coming to terms with the hard realities of the upcoming school year. As major cities start to announce all online or hybrid models of school, and millions of children prepare to stay at home in the fall, it is becoming increasingly clear teachers will have to rely on technology more than ever.
During these strange unyielding times, the United States Congress passed the CARES Act (The Coronavirus Aid, Relief, and Economic Security Act) to deliver fast economic assistance for Americans. This $2 trillion economic relief package was divided up all over our economy, with a considerable amount going different funds in order to help stabilize our schools. The U.S. Education Department has released estimates on how much money each state should receive individually and has created lists of allowable uses. Among the list of acceptable expenditures are the following: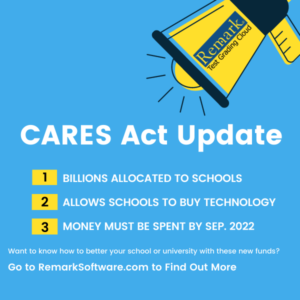 Providing principals and other school leaders with the resources necessary to address the needs of their individual schools.
Planning for and coordinating during long-term closures, including how to provide meals to eligible students, how to provide technology for online learning to all students, how to provide guidance for carrying out requirements under IDEA, and how to ensure other educational services can continue to be provided consistently with all federal, state, and local requirements.
Purchasing educational technology (including hardware, software, and connectivity) for students who are served by the local educational agency that aids in regular and substantive educational interaction between students and their classroom instructors, including low-income students and students with disabilities, which may include assistive technology or adaptive equipment.
Remark Software has a long record of commitment to the educators of the world. When the global pandemic started, we offered our Remark Test Grading Cloud solution free for all educators. We implemented online testing, added custom feedback reports, continued our dedication to privacy by adding the option for Canadian hosting of data, and added even more to our long list of LMS integrations. All these innovations lead our company to be a finalist for the EdTech Digest Awards, and a winner of an ISHN (Industrial Safety & Hygiene News) Readers' Choice Award.
As we discussed during Teacher Appreciation Week, everyone at Gravic, Inc. has had a teacher who changed their lives. So, before we add any features to our Remark Test Grading Cloud solution, we always think about the t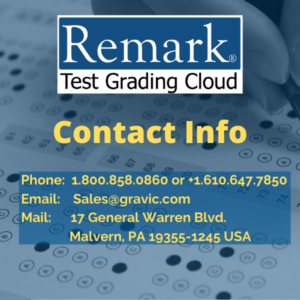 eacher first. We ask ourselves, "Will this make their jobs easier?" "Does it save them crucial time?" "Does our solution improve their lessons?" When all the answers are "yes", we finally implement the feature. So recently, when customers asked for the ability to randomize their questions to help curb cheating, we jumped at the opportunity to make our essential educators' lives easier.
During this time, Remark Software wishes to ask educators across the world: how can we help? Please consider requesting a free trial of our Remark Test Grading Cloud, or contact our sales team to discuss whatever your unique needs may be. To learn more about our solution, consider signing up for a live webinar. We look forward to helping you!