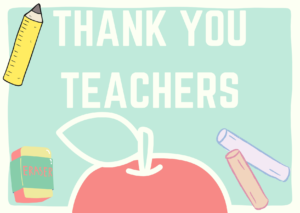 With our children stuck at home all across the country, it's now easier than ever to really appreciate what teachers do day in and day out. Millions of teachers across the country are currently working from home, stripped of their school supplies and regular go-to methods like their textbooks and blackboards. Yet, their work goes on. Sometimes it can feel like a thankless job, but not this week, because this week is Teacher Appreciation Week!
To show our appreciation for every teacher reading this, we are offering our award-winning grading solution for absolutely free!
The Teachers We Would Like to Thank…
"I would like to thank Mr. Providence, my junior year history teacher. He instilled in me a love of history that to this day still has me watching documentaries on YouTube late into the night." – Alan Parkerson
"I would like to thank Mr. Kevin McGrath from Glenfield Middle School. Mr. McGrath was everything you could ever want in a teacher. He had the impossible task of teaching a diverse bunch of kids who were thrown together in middle school. He quickly broke down barriers helping us become friends and served as a positive role model during turbulent times. There are a lot of us whose lives were positively impacted by Mr. McGrath."
"Also, a shout out to a Remarkable teacher Ms. Barbara Goodale, a long time high school teacher and Remark Test Grading Cloud user, recently honored as an Outstanding Educator by the University of Chicago. Thank you and congratulations Ms. Goodale!" – Victor Berutti
"Sending a huge thank you to the Downingtown Area School District's teachers, staff and administrators for the incredible job they are doing under difficult circumstances. We are so appreciative of their hard work, grace and perseverance as we all navigate our new normal." – Nora P.
"As I struggled to find the right major, I ended up taking a macro economics class from Mr. Michael Moore at Bucknell University. Professor Moore made the material come alive with lively explanations so that I finally understood how the economy, financial systems, and businesses actually worked. Although I chose to get an undergraduate degree in Computer Engineering, it was Professor Moore's insights that helped me subsequently decide to start a consulting company just as the age of software engineering was exploding… thank you Professor Moore for helping me launch into a rewarding career!" – Paul J. Holenstein
"Two math teachers I learned a lot from are Mr. and Mrs. Pender. Mrs. Pender taught me in elementary school and it was there that I began to really like math. Mr. Pender continued the instruction in high school with geometry. Our high school handed out book prizes for the best student and I still have the book that Mr. Pender presented me 45 years ago. Thank you Mr. and Mrs. Pender, RIP." – Bruce Holenstein
"I would like to thank Mr. Milton Scholl, my geometry and computer science teacher from West Chester East High School for introducing me to what became the career I am happily pursuing today. Mr. Scholl didn't teach me WHAT to think; he taught me HOW to think critically. He taught me how to reason. He instilled in me a passion and desire to problem-solve, to create, and to learn. I had a blast in his classes, which will always be some of my greatest memories of high school. I hope he is well." – Vuk P.
"The teacher that I'm most thankful for is Mrs. Sidenglance, my 4th grade teacher. I have both ADHD and dyslexia and attended a special school for children with learning differences for the majority of grade school. She had a way of breaking past these difficulties and finding ways for each of us to learn. Ways we could work around our differences. Every day I use what I learned from her to not only succeed in the work places, but to get through everyday life. Without her and the rest of the teachers at Crossroads, my life would be far more difficult." – Tom
Thank you to all of our educators. You rock!