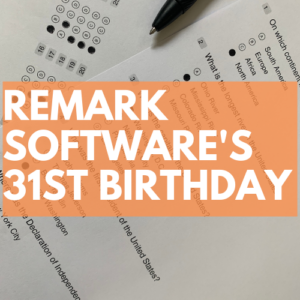 On January 15th, the Remark products transitioned from our 30th to 31st year anniversary. During our 30th anniversary year, we attempted to dive into our past and pull out interesting items from our history. Hopefully, for those long-time users, you saw some things, such as floppy disks, that you have not thought of recently. Nostalgia is great but now it is time to once again turn our attention squarely to the future!
So, what is in store for the Remark products? We have seen over the past few years that for schools and universities our Remark Test Grading Cloud application is a great tool for handling instructors' testing needs! We have invested a lot of time and effort in developing the application to where it is now quite full-featured, including handling both paper and online exams and having almost all of the features of our legacy desktop products. Recently, we have added optional connectors to Canvas, Blackboard, and D2L, and we are going to be adding more this year.
Also coming in the new year will be the ability to tie into a school's SSO to simplify the deployment of the application in these more sophisticated types of environments. Our growing list of customers certainly likes the product and appreciates the flexibility we afford with the ability to design and print forms and scan them with any MFP or image scanner. More and more universities and schools are moving from a centralized scanning center to a decentralized solution where individual instructors can process their own tests easily and conveniently with Remark Test Grading Cloud. If your school could benefit from this workflow, please connect with our team for a web demo or to get your questions answered.
For those of you using the desktop products, in 2021 we released Remark Office OMR 11 and soon will be releasing Remark Classic OMR 7! We appreciate the tens of thousands of loyal customers using these products and we are committed to continuing to enhance and innovate them to make your lives easier. Keep an eye out for more product announcements in the next few months from your Remark-able friends at Gravic.
As always, we appreciate any and all feedback from customers. For 30+ years we have used your feedback to drive future versions of our products and we don't plan to stop listening now! Please send us your ideas, thoughts, desires, or problems and we will do our best to address them in the future.
Finally, we could also use your help to spread the word about Remark. If you are using a Remark product and would like to share a review with other potential users we always appreciate the kind words! You can leave a review on our site at: Remark Software Reviews · Remark Software. Or if you want to take it a step further, feel free to do a case study with us so others can see just what you've accomplished with Remark.
We thank you for your support over the past 31 years and we look forward to serving you for many years in the future! Cheers!
-The Remark Team