Multiple choice testing is often associated with a test question sheet and a separate, standardized answer sheet for students to bubble in their answers. While that option is available in Remark Test Grading Cloud, we understand multiple test documents do not work well for all students. Specifically, this poses several issues for younger learners, such as elementary school students. Thanks to Remark Test Grading Cloud's powerful form designer, teachers can create tests, quizzes, and assessments suitable for students of any age.
Providing two separate documents for test questions and answer selections can cause frustration and confusion for elementary school students. Remark Test Grading Cloud eliminates these concerns, as the application allows teachers to create test forms with question text, answer choice text, and answer bubbles all on one page. Question creation is fully customizable! Enter your own customized test questions and answer choices, specify the number of answer choices for each question, and position your questions on the form to your liking.
Another potential stumbling block for elementary school students using traditional multiple choice testing methods is the size of the answer bubbles. Expecting young children to accurately fill in a small bubble is unrealistic. Thankfully, Remark Test Grading Cloud allows teachers to adjust the size of the bubbles in the test designer. Moreover, the answer bubbles are not limited to just circles, as options for rectangles and squares are available as well. Choose the size and shape that works best for your students!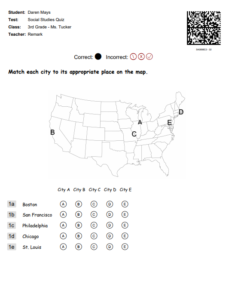 Tests in Remark Test Grading Cloud do not have to be strictly questions and answers. Teachers can include several design elements to enhance the test forms. The most popular design element added is pictures, which can be added for students to reference in their answer choices or to aid in their test taking. Other design elements that can be added include lines, text, line breaks, and page breaks. Add as many of these elements as desired and position them anywhere on your test to create a unique test well-suited for your students.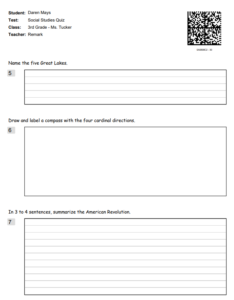 Multiple choice questions might not always be the best way to gauge young students' knowledge and progress. That is why Remark Test Grading Cloud supports open response questions. Teachers can grade short answer responses, essays, graphs, drawings, illustrations, and more. With the ability to customize line types and the length of the open response areas, the possibilities are endless! Open response questions are graded within Remark Test Grading Cloud while viewing an image of the student response on-screen. The days of sorting through the physical paper tests in order to grade open response questions are behind you.
By default, tests in Remark Test Grading Cloud are pre-printed with students' names on them, thereby eliminating the need to bubble in a name or student ID number. There is no need for students to identify themselves on the test form, as all relevant identifying information is stored in a QR code that is printed on the test. The forms are automatically associated to the proper student and class in Remark Test Grading Cloud when graded.
Even with larger bubble options available, young students still might not always fill in the bubbles accurately or completely. Or they might select multiple marks, such as a case where they changed an answer after already bubbling one in. Fear not! Remark Test Grading Cloud uses the same elite optical mark recognition (OMR) technology that has made us the leaders in plain paper data collection since our first software release in 1991. The application can read a wide variety of incorrect marks. And if the mark cannot be read, the mark in question can be easily reviewed and changed in Remark Test Grading Cloud while viewing the scanned-in image on-screen.
You can learn more about how Remark Test Grading Cloud can assist with elementary school testing by watching the video below.
To learn more about Remark Test Grading Cloud, please contact our sales team at [email protected] or 1.800.858.0860. You can also request a free trial or sign up for a live webinar. We look forward to hearing from you!