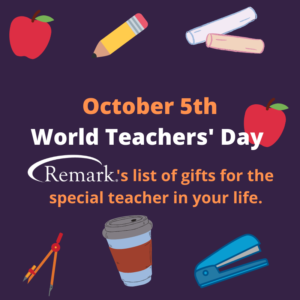 During this pandemic, parents and students worldwide have gained a brand new understanding of how vital teachers are. So what better time to show your favorite teachers that you appreciate them than World Teachers' Day? The following is a list of gifts that teachers will love and use, not just smile politely and add to their never-ending pile of "you rock" paperweights.
#1 Pencil Sharpener
Hundreds of parents, students, and administrators will be handing buckets, boxes, and bags of unsharpened pencils to teachers as gifts. They are certainly appreciated, but they're all essentially useless without a good pencil sharpener. Often, the sharpeners teachers have are past their prime or hand-crank operated. Believe me, a good pencil sharpener on the teacher's desk will go miles beyond an ornate red apple. Plus, they'll think about you every time they use it. Where can this gift go wrong?
#2 Coffee Gift Card
Obvious, yet overlooked. The coffee-themed gift card. Dunkin', Starbucks, McDonald's, Tim Hortons, doesn't matter. Not all caffeine lovers are teachers, but all teachers are caffeine lovers. Other gift cards are great, but none give the immediate benefits of a cup of coffee before a long workday. They're also incredibly easy to buy; any phone app will let you send these gift cards digitally as long as you know the teacher's phone number.
#3 Giant Post-It Pads
A gift no teacher thinks they need until they're gifted one. The incredibly versatile post-it pad. Everyone knows chalkboards, and the new generations know whiteboards. Now imagine if you gave the teacher the ability to write anytime, anywhere in their classroom? Any wall, any door, anything you can hang a piece of paper from becomes a learning tool. The teacher now can point towards anywhere in the room to remind students of vocab terms, missed assignments, or class recaps.
#4 Desk Organizer
When you have multiple classes a day, with potentially over thirty students in a classroom, organization is hard. Massive piles of papers build up fast, and classroom supplies can wind up all over the place. It can be overwhelming, especially for new teachers. A simple desk organizer can help declutter the teacher's workspace and by extension, declutter their minds.
#5 Presenter Pen
Cheap and game-changing. Isn't that the perfect gift for everyone? There are hundreds of models, and all of them do the job. Presenter pens allow teachers to leave their laptops and walk around the room while continuing to teach. They can use their presence to silence talking, check to make sure students are doing the right thing, and can help the students most susceptible to falling behind. Plus, pointing lasers at kids is fun…it just is.
A Free Gift
Perhaps, like many, you simply can't afford to send any gifts to that teacher who positively impacted your life or the life or your child. That's okay. Consider sending a thank you email. Or, provide them with information about useful classroom tools like Remark Test Grading Cloud instead. Remark Test Grading Cloud allows teachers to print out custom-made paper assessments, and then assign those same assessments via an online quiz or fillable PDF. When the assignments are completed, the teacher can scan paper assessments or just watch the online grades roll in. Then, teachers have instant access to multiple printable/email friendly reports on each assessment. Tell that special teacher they can receive a live webinar or request one of our free trials that last until the end of 2020 in order to help teachers get past these hard times.