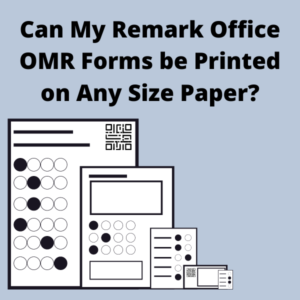 The flexibility available with the Remark Office OMR software is unparalleled when compared to competing solutions available on the market. Not only can customers design their own forms, print on regular copy paper, and scan with an image scanner or copier, but you can also print on any paper size!
Some popular paper sizes include 8.5 x 11 inches, A4, and legal, but these sizes do not meet the needs of all customers. Depending on your questions, you may want to print on a size that better matches the content of your form. For example, if you are only asking a few questions, you may choose to go with a smaller paper size that looks like a card, rather than a full sheet of paper. Another popular example is printing on larger paper, and then folding the pages into a booklet format. Please note that, when printing in a booklet style, the booklet needs to be disassembled prior to scanning. This requires removing any staples or other binding.
You should always refer to your scanner specifications before settling on a paper size. While Remark Office OMR can handle any paper size, you need to confirm your scanner can handle the paper size and thickness of your choosing.
Always be sure to follow our Remark Office OMR form design best practices and do not hesitate to take advantage of our free form review service. Our team strongly recommends that you test your paper selection prior to printing and distributing large quantities.
For more information on the Remark Products please contact Remark Sales at [email protected] or +1-800.858.0860. For technical assistance, please contact Remark Support at [email protected] or +1.610.647.8595.