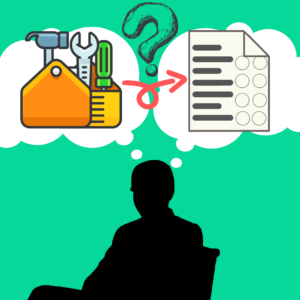 Remark Office OMR provides the ultimate flexibility when it comes to form design. Rather than using a built-in form designer, customers design their own plain paper OMR forms using any word processor, survey design, or form design tool.
Many customers choose to use Microsoft Word® as their form designer. In fact, this is so easy that the Remark Team uses it as well! Word is a simple, easy-to-use application that is available to almost all Windows PC users. In order to make it easier to create forms, Remark Office OMR automatically installs several varieties of TrueType OMR fonts as well as a barcode font. These are easily accessible in Word, making it a one-stop shop for your form design needs. Feel free to browse our sample forms that were created in Word. These are available for you to use or modify to meet your needs.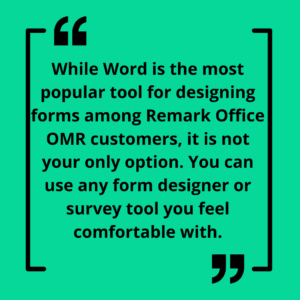 While Word is the most popular tool for designing forms among Remark Office OMR customers, it is not your only option. You can use any form designer or survey tool to design your forms. For example, customers with graphic design experience often choose to use Adobe products as their form designer because that is what they are most comfortable using. With the flexibility of using a third-party form designer, your options are endless!
Regardless of the tool you choose, you always want to make sure to follow our form design best practices. We strongly encourage you to take advantage of our free form review service prior to printing and distributing large quantities.
For more information on the Remark Products please contact Remark Sales at [email protected] or +1-800.858.0860. For technical assistance, including our free form review service, please contact Remark Support at [email protected] or +1.610.647.8595.