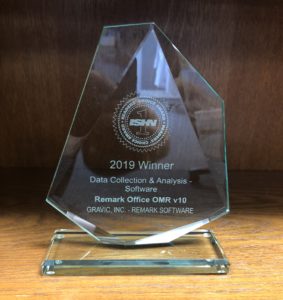 We are proud to announce that Remark Office OMR was recently awarded the 2019 ISHN (Industrial Safety & Hygiene News) Reader's Choice Award for Data Collection and Analysis Software. We would like to extend our appreciation to ISHN's readership, who vote on all ISHN's annual awards. Other ISHN Reader's Choice Award categories include: all major PPE types, facility safety products, signage, chemical exposure monitoring, and safety and health training.
Remark Office OMR was recognized and awarded for the ability to collect data from safety forms, such as BBS observations, training assessments, and audits. These forms can be created in Microsoft Word or other applications of your choice, printed on plain copy paper, and be of any page size supported by your scanner. Once completed, the forms are scanned for processing using any image scanner or network copier. When all forms have been scanned, you can choose to run any of our built-in reports, or export the data to a variety of formats to feed your existing safety management and other reporting systems.
Check out how GB Biosciences eliminated manual data entry of their BBS observations and safety surveys with Remark Office OMR.
Read more about how the Remark software can help you with safety form data collection by clicking here.
To test Remark Office OMR for your data collection needs, you can download a free demo version. Additionally, you can request a live webinar to see a detailed presentation that is personalized to your specific uses and needs.