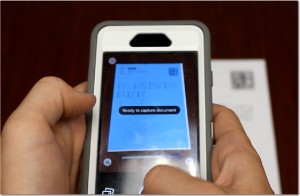 Being away from your scanner doesn't mean you can't grade your tests or tabulate your surveys. Several companies have developed mobile scanning apps that can be used with Remark Office OMR and Remark Test Grading. These applications capture images of the filled-in forms and save them as image files that are compatible with Remark products (Tiff, PDF, JPG). Use the app to take pictures of the completed forms, save the image files, and export them somewhere accessible, such as email or saving it your Google Drive. Then read the images in the Remark Solutions as you normally would.
Similar to a multifunction printer, the mobile applications can utilize the Grade by Email Function of Remark Test Grading Cloud. Once you have captured images of the forms with your phone or tablet, you can email those forms directly to the cloud to be graded instantly. Once they are graded, an email can be sent to you with all of your desired grade information, including test results and reports attached as PDFs.
We have tested the following applications with the Remark software:
There are many other imaging apps for your mobile phones, and really anything that can create a suitable image for our products could work. Make sure to review the features in each app to ensure that it will produce quality images. Also check for any limitations; for example some apps can only create one image at a time, which could be very tedious when trying to scan many forms. Just like when you create new forms, please make sure to test out any apps prior to distributing your forms to verify that the images created will work. If you have an app that you like to use or would like us to investigate please let us know.