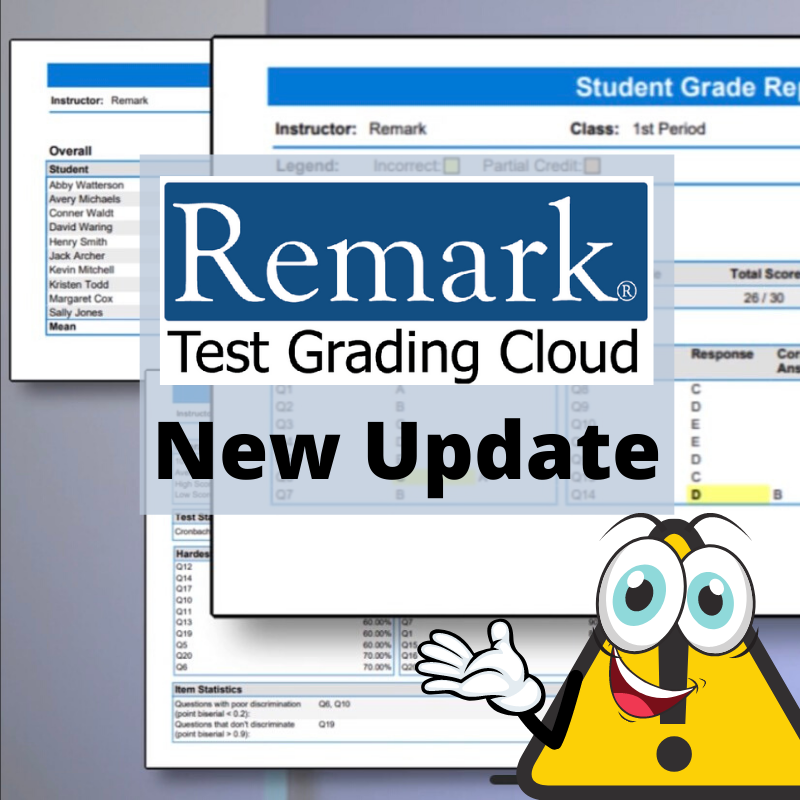 Just in time for the new school year, we are happy to announce that a major update for Remark Test Grading Cloud has been released! The next time you log in you will see all of the changes available to you.
Normally we have been updating the cloud with smaller tweaks every few months, but this update is larger than most. While trying to keep the interface as similar as possible, we have added many new features, mostly around the online testing component.
A new Online Progress tab is available in the Test Details screen, which is enabled when invitations to take a test online are sent. The Online Progress screen allows you to monitor your students' progress as they take the test. This powerful new screen provides a wealth of information, most of which was requested by customers over the past several months. We think you will like this new screen!

The Online Progress tab shows you:
If an invitation was sent to a student, if it was delivered successfully, and the delivery time stamp.
If a student has started or completed an online test along with the associated times.
Each student's progress as the test is taken (how much they have answered).
The amount of time students spent on the test.
In addition to the improvements mentioned above, if a student closes the test without submitting, the instructor can pull in the student responses for any questions that were answered. This provides piece-of-mind for students and instructors in the case of some internet issue preventing a student from submitting a test.
Students will have a different experience as well with the new navigation options for them. They can skip around the test and quickly jump to questions they have or have not completed. They can mark questions that they want to come back to as well. When submitting a test, Remark will let them know if there are any unanswered questions, For timed tests the amount of time left is displayed prominently.
Many of our customers are using one of our connectors for streamlined use with their learning management system. Schools can purchase a connector for Blackboard, Canvas, and D2L. With the connector, instructors can sync their classes and tests with the LMS, which eliminates a lot of IT intervention. In addition, grades can be manually or automatically (new) synced back to the LMS. Contact our sales team if you are interested in one of these connectors.
There are many other tweaks to the product you will notice when using the application. The update was made possible by the many suggestions and ideas provided to us by our users. We encourage everyone to let us know if there are features, interface tweaks, or thoughts for simplifying the interface. These are all catalogued and hopefully you will see them implemented in a future release. Thanks again to all our customers for the helpful feedback!
If you are not a user, why not?
Remark Test Grading Cloud will save you and your colleagues lots of time. Tests can be created to be distributed on plain paper, or online and results will be provided quickly and easily. Our reports allow you to view the test from the student, class, test, and item levels and will enable you to drill down to see hot spots in your class that you can use to inform your instruction. Contact the Remark Sales Team at [email protected] or 1-800-858-0860 to discuss your needs or to see a live demo of the application.