What is H.R. 1319?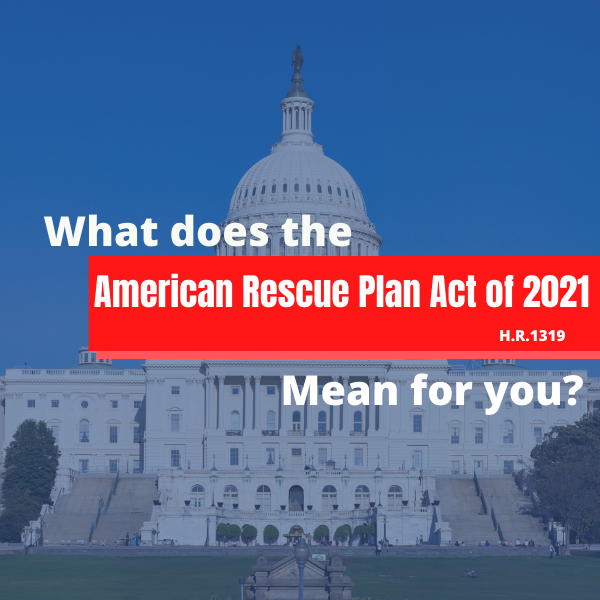 On March 11, 2021, The American Rescue Plan Act of 2021 (H.R. 1319) was signed into law. The rescue plan will deliver aid to hundreds of millions of Americans, and inject new life across the economy as the United States continues to steer its way out of the COVID-19 pandemic. As with any government bill, the text can be lengthy and somewhat confusing. The bill itself is almost 250 pages long, is cut into 8 parts, and contains several dozen sections. Here, we will discuss The American Rescue Plan Act of 2021, and what it might mean for you.
How will it impact the American education system?
$168 billion dollars has been earmarked for the American education system. Public K-12 schools will be receiving $126 billion dollars, with public colleges and universities receiving $40 billion dollars in aid. Additionally, state Governors will be receiving $4 billion dollars to distribute as they see fit.
As you would expect, there are some limitations on how schools can use this money. For example, K-12 school districts must spend at least 20 percent of their money addressing learning losses from the pandemic. Colleges must spend portions of their funds on student relief measures such as grants. Governors must spend at least $2.7 billion dollars on private schools within their state.
This is not a comprehensive list by any means, with several more subsections dedicated to supporting hybrid learning, summer learning, after-school programs, extending school years, providing easier internet access to homes and libraries, and so much more.
Can my school or university use our rescue funds on Remark Test Grading Cloud?
Absolutely! The first step in addressing learning loss from the pandemic is to determine the extent of the learning loss. Remark Test Grading Cloud is education technology that allows your teachers to assess their students to find areas in which they are struggling. If you have some students still at home, Remark Test Grading Cloud allows for assessments on paper, online, or both. This combination is perfect for in-class or remote learning, and fully supports a hybrid approach to learning. As a hosted cloud solution, your teachers have access from school, home, or anywhere they have internet access, making teaching off-campus easier than ever!
Unlike many other assessment solutions, Remark Test Grading Cloud does not require special paper or scanners. It will work with your school's scanners or copiers. Grades from Remark can be exported to almost any grade book or learning management system and connectors are available to automatically integrate with popular LMS systems such as Canvas, Blackboard, and others.
If you are a school or university, you may be eligible to purchase Remark Test Grading Cloud as education technology using funds from the American Rescue Plan. At the same time, you would be purchasing a solution that your teachers will use going forward for their testing and assessment needs.
Contact Us
To learn more about Remark Test Grading Cloud, please contact our sales team at [email protected] or 1.800.858.0860. You can also request a free trial or sign up for a live webinar. We look forward to hearing from you!