The Remark Team is always looking for ways to make our intuitive solutions as easy as possible for customers to use. When our friends at In Time Tec showed us their suite of HP Workpath apps for HP Multifunction Printers (MFPs), we jumped at the opportunity to work with them to integrate with Remark Test Grading Cloud! The video shows just how easy it is to use Connect to Remark Test Grading Cloud by In Time Tec to simplify printing, scanning, and grading tests using the HP MFP interface.
About In Time Tec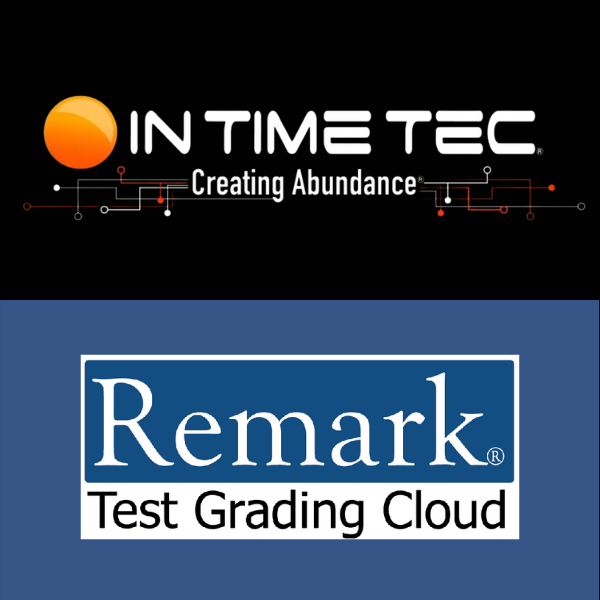 Since 2009, In Time Tec has created software that simplifies and improves the lives of countless businesses. Lead by their core values of trust, transparency, integrity, and leadership, they have won awards for the enhancements they have added for users of HP MFPs through their high quality HP Workpath apps.
About Remark Test Grading Cloud
Remark Test Grading Cloud is an all-in-one grading solution created by Gravic Inc.'s Remark Team. Remark Test Grading Cloud allows instructors to create their own custom tests and assessments and distribute those assessments on paper or online.
When it comes to paper assessments, instructors simply scan these papers using any MFP. The scans can be uploaded to Remark Test Grading Cloud where they are automatically graded. Instructors have access to a variety of reports for every class, question, comment, and answer given. This process is made simpler for customers using HP MFPs through the Connect to Remark Test Grading Cloud app available from In Time Tec.
Contact Us
If you have questions or want to get in touch with In Time Tec, you can fill out a form on their website.
To learn more about Remark Test Grading Cloud, please contact our sales team at [email protected] or 1.800.858.0860. You can also request a free trial or sign up for a live webinar. We look forward to hearing from you!