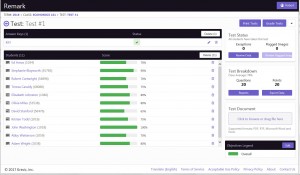 We are pleased to announce that the second iteration of Remark Test Grading Cloud is now available! Version 2 is a complete rewrite of the product, where we focused on making the interface easier to use while adding some enhancements, such as the ability to handle multiple answer keys, importing class rosters from Excel, greater flexibility in building forms, and more. The part you don't see, the hosting service back end, was moved to Amazon Web Services, the world's most popular hosting provider. This platform provides added security and scalability for the solution now and into the future.
Current customers will be able to move over to the new version automatically by clicking on a banner that displays when you start the application. When you switch, all your classes and data will be there for you. If you are not ready to switch, you will have the option to continue using version one until the summer.
If you are interested in Remark Test Grading Cloud and wish to try it for yourself, please fill out our trial request. For any other questions please contact us.
Thank You!
The Remark Software Team