We are pleased to announce Remark Test Grading Cloud. Built on our industry leading optical mark recognition (OMR) technology, schools and teachers can easily grade test answer sheets you create and print anywhere. The solution can be accessed from any web browser, including those found on PCs, Macs, and tablets. A simple interface walks you through the grading process and provides powerful grading reports.
There is nothing to install to simplify school deployments. In addition there is no need for #2 pencils, special forms or dedicated hardware.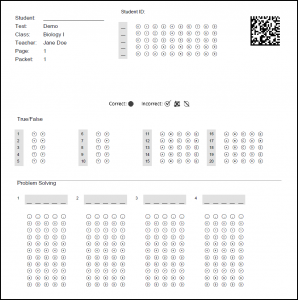 Use the built-in test answer sheet designer to create your own custom answer sheets tailored to your tests. Long gone are the days of using a 200 question test answer sheet for a 50 question test, or having True and False questions with five answer choices. You select the number of questions, answer choices, and question types on your answer sheets. Even include math questions where students can bubble-in fractions, decimals, and negative numbers. Add a variety of subjective (open ended) questions for essays, graphing, show your work, and short answer. Print your own answer sheets and scan them with any image scanner or networked copier. No more waiting in line to use the school's grading machine. Completed test images can be uploaded or emailed to the cloud for instant grading. Analysis reports can be emailed directly to the teacher for easy viewing, printing, and sharing.
Remark Test Grading Cloud contains powerful test grading analysis, including a variety of reports that show student, class, and question performance. Teachers can add learning objectives to target specific areas where students need extra assistance. Spend less time grading and more time with your students.
For more information check out our introduction video, view the full feature list, or take a closer look at our analysis report samples. Request a trial version or webinar for your school and teachers.