We recently tested the Panasonic KV-S2087 scanner with our Remark products. The Panasonic KV-S2087 works very well with Remark Office OMR and Remark Test Grading Edition (Cloud and Desktop).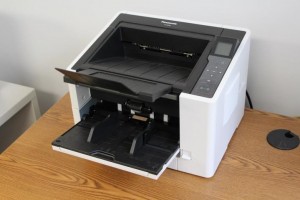 During our test we were able to take advantage of this scanner's speed, which comes in at 85 pages per minute (simplex) or 170 images per minute (duplex)! Combined with a 200 sheet feeding tray, the Panasonic KV-S2087 quickly processes forms in bulk. It scans forms efficiently and effectively. By scanning at the standard 300 dpi in black and white, you get clean, crisp scans that work perfectly with the Remark products.
You can find out all about this scanner at http://panasonic.net/pcc/products/scanner/kv-s2087/.
Note: If you would like to test out your scanner with the Remark Software please download one of our free demos.