It's hard to believe our flagship product, Remark Office OMR, turns 25 years old this year! I like to think it's in an pretty elite group of software packages that can boast being 25 years old. When I think back to the early versions… wow, we were scanning with scanners that could handle 2 pages per minute! But not only is it a solid product, out of it an entire suite of products was born. We created its counterpart, Remark Classic OMR, to provide a software solution that works with traditional OMR scanners and forms. Then we created Remark Web Survey so that as work moved online, people could administer forms on both paper and the web. Then came Remark Test Grading Edition to streamline grading tests for our ever growing K-12 teachers. And now? Well in 2016 we are moving to the cloud with Remark Test Grading Edition. This move opens up lots of new and exciting opportunities for you and us.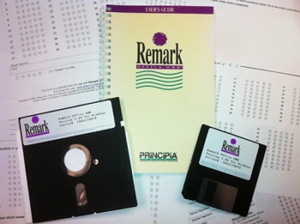 But the best part of this journey is our customers. None of this could have happened without you. We have a loud and loyal fan base that offers us fantastic suggestions and encourages others with similar needs to give us a try. While I work with some pretty talented people who really know how to create great software, without your input, our products wouldn't be what they are today. As a product manager, that feedback is invaluable and we want to offer our sincere thanks.
We are looking forward to the next 25 years so know that our "door" is always open and we want to hear from you. We can't take this journey alone!
Sincerely,
Nora Petchkofski
Sr. Manager, Product Management
Remark Products Group
Gravic, Inc.