We hope everyone is enjoying National Coffee Day and had a chance to pick up some free coffee. If you haven't had a chance swing by a Dunkin Donuts, Wawa, Sheetz, Krispy Kreme or a variety of other locations.
In honor of National Coffee Day we have put together a simple questionnaire form with coffee cups as your answer choices. Please feel free to use this form for your surveys with Remark Office OMR.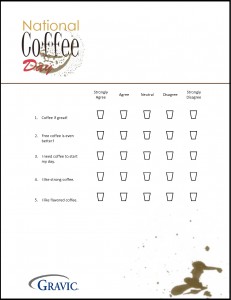 Check out the Word file, PDF or Remark Office OMR template.
Don't worry if you spill your coffee (you know who you are). Accidents happen and Remark Office OMR & Remark Test Grading Edition have you covered.
Have a great day!