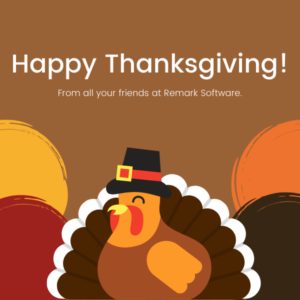 Happy Thanksgiving! 401 years ago, the first Thanksgiving occurred between the Wampanoag Native Americans and the Pilgrims from Plymouth in a display of unity over a successful corn harvest. Today families all over the United States come together to enjoy one another's company and a good home-cooked meal.
Remark Software would like to wish everyone a happy and healthy Thanksgiving. We hope everyone has safe travels and is able to spend precious time with their family and friends. Please note that in observance of Thanksgiving and to allow our staff proper time away from work, the Remark office will be closed on Thursday, November 24th, and Friday, November 25th, 2022.
We look forward to returning to normal business operations and serving you on Monday, November 28th.
Happy Thanksgiving,
The Remarks Products Group
Gravic, Inc.