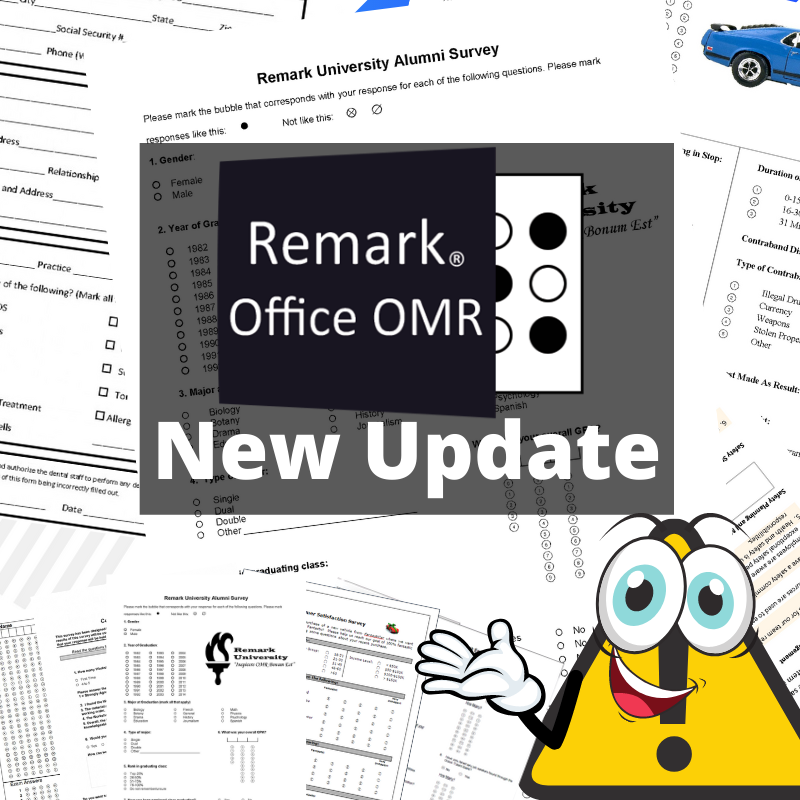 Remark Office OMR 11.1 is now available! This update contains a variety of new features, fixes, and updates including:
Remark Quick Stats – New Features and Enhancements
Student Answer Sheet Report: A Student Answer Sheet Report was added that shows the student ID, the image of the first page of the student's test, and the student's grade.
Number Correct, Incorrect, and Blank on Student Grade Report: Remark now provides the ability to show Number Correct, Incorrect, and Blank on Student Grade Report (in the report's properties).
Open Reports in Default Viewer: When executing an automation file (REZ) reports now open in their default viewer if one is set.
Multiple Answer Key Update: We changed the wording on the message that appears when a scanned form doesn't match any of the answer keys defined and Remark automatically matches it to the first defined answer key (e.g. test version bubble was left blank or mismarked).
Data Center – New Features and Enhancements
Checksum Support for Barcodes: A checkbox was added to the Barcode Properties window to specify if the barcode has checksum characters.
Dynamic Brightness: We added a "carry forward" feature for the Dynamic Brightness setting so that you can choose whether to carry forward the dynamic brightness setting (which recalculates itself based on what it reads) to subsequent images that are processed.
Numeric Comparisons in Data Validation: The Data Validation tool was updated to use true numeric comparisons instead of textual comparisons to ensure the rules worked correctly.
Template Editor – New Features and Enhancements
Initial Page Size: When creating your first template Remark now defaults to the paper size used in your locale (instead of Letter size).
Not using Remark Office OMR yet?
Sign up for a webinar or trial to see what it's all about. Contact the Remark Sales Team at [email protected] or 1-800-858-0860 to discuss your needs. We look forward to solving your test grading needs with our powerful, easy-to-use application!