Did you know that the Excel format provided in Remark Quick Stats takes all of the generated reports and exports them to one Excel file with one report per sheet? You can then manipulate the reports further in Excel or copy/paste information into documents or presentations. If you aren't familiar with how to export your reports to Excel, the process is simple.
Run your reports as usual using in Remark Quick Stats.
Please note that exporting to the Excel format is not available if using Report Batches. Also, reports that require additional user input are not included in the export. The exported data is static and includes no formulas.
Once the reports are generated within Remark Quick Stats, select File, Export, then select Excel. You can also simply click the Export Excel link in the task pane.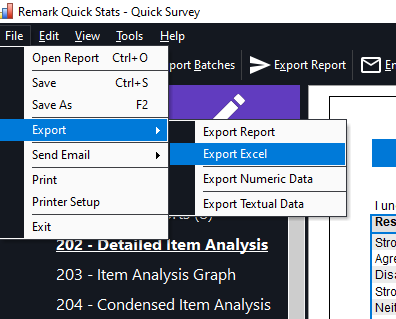 Choose the reports to export and click the Next button.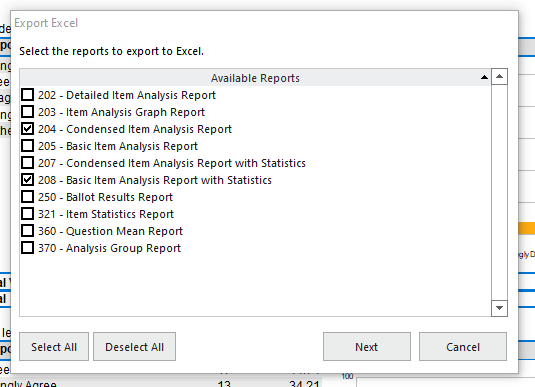 In the Save As window, choose a location for the file and enter a name in the File Name box. The Save as type is preset to Excel and cannot be changed. Click the Save button to export the Excel file.
If Excel 2007 or greater is on the computer, the file is opened automatically. Otherwise, you may open the resulting file on another computer that has Excel 2007 or later installed.
Note: Gravic, Inc. is not responsible for any reporting discrepancies if you modify the report data in Excel.
Remark Support can be reached Monday – Friday (except major holidays) from 9am – 6pm Eastern Time at 610-647-8595 or by email at [email protected]