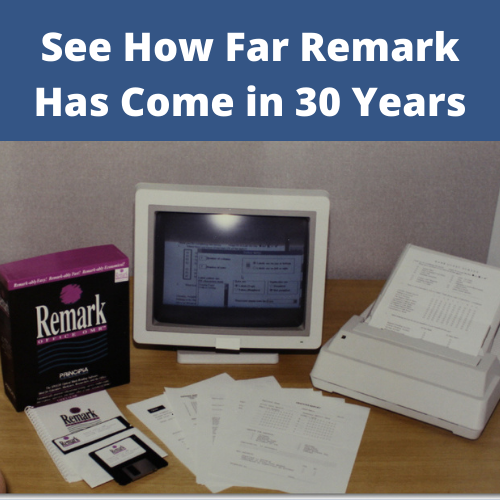 The Remark Team at Gravic, Inc. celebrates our 30th anniversary in 2021. This milestone marks the very first sale of our popular Remark Office OMR software. Over the course of this year we plan to share various throwback content to demonstrate the progression of the Remark Products over time. What better way to kick things off than visiting our archives, dusting off some old floppy disks, and setting up a computer running everyone's favorite operating system, Windows 95. Enjoy a blast from the past with this video of Remark Office OMR version 1.
Ah, the nostalgia! Notably, this version lacks our signature Data Center, our variety of built-in reports, and many other components you have come to know and love. Over the course of 30 years we implemented a wide range of new features and enhancements, many based on your feedback. We are proud of the progress we made in adapting to the needs of our customers and establishing ourselves as constant leaders in the data collection industry. And we are far from finished! We remain committed as ever to evolving our Remark products to satisfy our valued customers now and in the future.
As this year marks an important milestone for us, we will be taking the opportunity to look back on our history and reflect on our achievements thus far. Stay tuned to our blog and social media channels below to see more throwbacks, as well as plenty more Remarkable moments of the last 30 years.