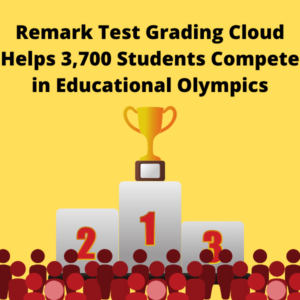 Recently, a major Brazilian university held its "Financial Education Olympics," a competition to help promote knowledge of finances and public policies for thousands of students. Originally started in 2017 with about 800 students, the Olympics has ballooned to 3,700 tough competitors from all 26 states in Brazil. The Financial Education Olympics are intended for elementary and high school students from both public and private schools. Students compete at any of the five skill levels, each having tests consisting of 10-15 multiple choice questions.
The pandemic presented a new challenge for organizers. Due to COVID-19, this year's event would need to be held virtually. With time running short, the organization needed a solution that was easy to learn, could handle thousands of tests and questions at once, and return results quickly. They researched solutions and our partners at GB Network & Print answered the call. GB Network & Print was able to meet the needs of the organizers by providing the Remark Test Grading Cloud solution in time for this year's competition. The tests were delivered electronically to students who completed the tests online. As expected, Remark Test Grading Cloud passed this test with flying colors, as did many of the students taking the tests!
To learn more about how Remark made the grade, check out GB Network & Print's case study. Please visit GB Network & Print's website to learn more about our valued partner.
If you would like to discuss your test grading needs with a Remark representative, please contact us at [email protected]. We look forward to hearing from you!