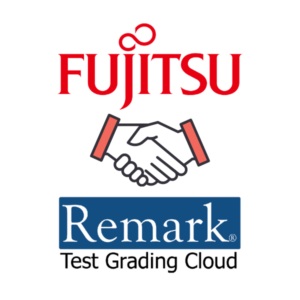 Gravic's Remark Products Group and Fujitsu have worked together for many years to provide powerful data collection solutions to schools and organizations worldwide. Millions of forms, including multiple-choice tests, have been scanned with Fujitsu scanners into the Remark Products. With applications like Remark Test Grading Cloud, educators can quickly create their assessments and print them on plain-paper in minutes, scan completed tests with Fujitsu scanners, and generate meaningful analysis in a matter of moments. A perfect combination for busy educators like yourself that already spend far too much personal time grading!
Remark Test Grading Cloud is designed to process PDF or TIFF files created with Fujitsu scanners. Simply scan completed tests with your Fujitsu scanner, upload the image file manually, or email the image file to Remark Test Grading Cloud for instant grading. You can make this process even easier by setting up a OneTouch process with Fujitsu's PaperSteam Capture. With just a press of a button, your scanner will attach the image to an email addressed to your Remark Test Grading Cloud account. Say goodbye to the days of waiting in line at the school copier and grading by hand!
Check out the video below to see how you can use Fujitsu's OneTouch technology to streamline grading in Remark Test Grading Cloud.
Want to learn more about Gravic's popular Remark Test Grading Cloud application? Contact Remark Sales at [email protected] or 1.800.858.0860 to discuss your needs. You can even sign up for a live webinar or request a free trial to try the application for yourself.
For more information on Fujitsu's industry-leading scanners, please visit the Fujitsu website.