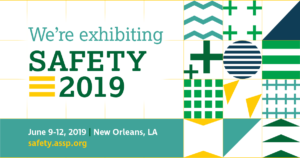 Gravic is pleased to once again be exhibiting at the ASSP Safety Conference in New Orleans from June 10-12, 2019. We will be demonstrating how Remark Office OMR can automate the process of analyzing your behavioral based safety observations, training assessments, and many other types of safety forms. The forms can be created using any form design program (e.g. Microsoft Word), printed on plain copy paper, and be of varying page sizes. Collect the data by scanning the forms with any image scanner or multifunction printer. You can then take advantage of the software's built-in analysis reports or export the data to a variety of formats for your own analysis.
The conference will be held at the Ernest N. Morial New Orleans Convention Center, which is located at 900 Convention Center Blvd, New Orleans, LA 70130. Stop by booth #2542 to speak to us about your data collection needs. The expo will be open during the following hours:
Monday, June 10: 11:30AM – 4:30PM
Tuesday, June 11: 9:00AM – 3:30PM
Wednesday, June 12: 9:00AM – 2:00PM
We look forward to seeing you at the show! If you are unable to make it to New Orleans, feel free to try the software out for yourself by downloading a free demo or signing up for a live webinar to see the software in action.
Safe travels!