We are pleased to be exhibiting at the AAPOR conference in New Orleans, LA on May 18th – 20th.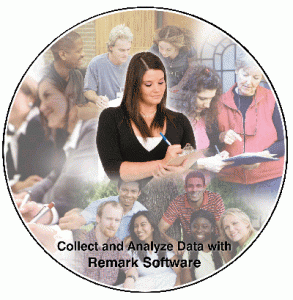 We hope you can stop by our booth #25 and discuss your survey data collection and analysis needs. Free yourself from manual data entry or having to purchase special survey forms/use special hardware for scanning. Remark Office OMR works with plain paper forms and common image scanners. Create your survey right in Microsoft Word and print it out on regular paper. Scan completed forms using any image scanner or multifunction printer/copier. You can export your data to a variety of formats or use the built-in analysis reports.
See how Remark Office OMR was used by The New Jersey State Cancer Registry (NJSIR) to collect data from mailed surveys. Check out the poster presentation, Implementing Optical Mark Recognition Technology to Process Mailed Surveys at a State Cancer Registry.
Combine Remark Office OMR with Remark Web Survey for mixed-mode survey research. Use Remark Office OMR for your paper surveys and Remark Web Survey for your online surveys. Easily combine the data for one simple analysis. Remark Web Survey allows you to create and administer online surveys on your website. Check out a quick overview datasheet on using the products together.
If you already have an existing online survey solution, you can set up your Remark Office OMR template to match your data output which will allow you to combine the paper and web results for one analysis. You can see how Susan Voigt was able to use Remark Office OMR to analyze a needs assessment survey that was collected through a thrid party product. You would do a similar process to collect paper based results with Remark Office OMR and your existing online survey solution. Remark Office OMR allows you to easily export your data to a variety of formats including; SPSS, Excel, Access, StatPac, CSV, Opinionmeter, Survey System, Survey Pro and more. The various data export options make it easy to combine Remark data with data collected from other products.
Try Remark Office OMR out for yourself with the free demo version or sign up for a webinar to see it in action!
Quick Remark Office OMR Overview Video: