It's always nice when you can find ways to combine your outside interests with work. I was recently able to combine Remark Web Survey with a personal project. My name is Tom Mitchell and in addition to being a Quality Control Analyst here at Gravic, I'm also a comic book creator who goes by the name T. Perran Mitchell (there are just too many Tom Mitchells in the world). Over the last several years I have done freelance writing and lettering work for Red Stylo Media, Disposable Fiction, R-Comics and Firestorm Comics, to name few.
While working freelance, I've had a spark of an idea in the back of my mind. It sat back there growing and becoming ever more persistent. With each comic I worked on for someone else, I felt this idea tugging at me. Finally, I had enough and knew I needed to create my own comic series.
At first I just dipped my toe in the water and did a few short comics set in this world. It was on the second of these shorts I Hate When They Run, that I first teamed up with the incomparable artist Kelsea Jewell. I knew after receiving the first page of art from her that I had found the right person to help me bring my vision to life.
Over the next several months we worked tirelessly to create the first issue of The Chronicles of the Tal Nor. Kelsea took my script and gave it form in beautiful water colors. After I added in the lettering we were ready to publish. The only problem was, not only is it hard to make a comic, it's expensive to publish one. However modern technology had an answer for that, Kickstarter. We're not alone in turning to Kickstarter to help fund our comic book. If you took all the comics that were funded by Kickstarter last year and viewed that as one company, only Marvel, DC and Image would have published more comics.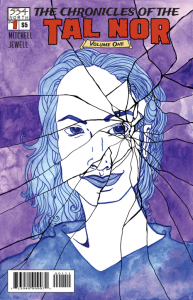 On August 17th our Kickstarter project was fully funded. Now I needed to get all the particulars from our backers. I needed to find out where I should ship each of their books, if they wanted to be added to the thank you page of the book and website or wanted to remain anonymous.
Kickstarter provides some tools for doing this, but to be honest they weren't really meeting my needs. This is where Gravic's Remark Web Survey comes into play. Kickstarter provided me with the list of names and email addresses from my backers. From this I was able to create a password list for a login page in Remark Web Survey. I was also able to use this list to embed individual passwords into the urls sent to my backers to create a simple seamless experience for them to take my survey.
Anyone who knows me knows I love a good spreadsheet. It's true, I love them un-ironically and use them every day. The first thing I did with the data from Kickstarter was create an Excel spreadsheet with all the information I had about each backer. Once the surveys started coming in, I was able to use the database update feature in Remark Web Survey to automatically match the right survey data with the right person in my spreadsheet.
As luck would have it, I was working on this as we were getting ready to release an update to Remark Web Survey. Often times, in Quality Control when testing a product, we have to try to imagine what it is like to be a user. We have to create data that simulates what a user would have in the real world. This time there was no imaging or simulating needed. I was the user. It let me see Remark Web Survey from a whole new angle.
I can say as a user, Remark Web Survey was great. I was able to make a survey in no time flat (I might have an experience advantage on most users) and get the data I needed, just how I needed. With Kickstarter's built in tool I would have had to make a survey for each reward tier from scratch and then combine each of the results myself. With Remark Web Survey I was able to make just one survey and combine the data with no trouble at all.
The comic came out great and we are already working on issue two. As one of my heroes would say, "But you don't have to take my word for it." Read my comics at www.Tal-Nor.com
I hope you enjoy!
T. Perran Mitchell
(aka Tom Mitchell, Quality Control Analyst at Gravic, Inc.)