Remark Software for K-12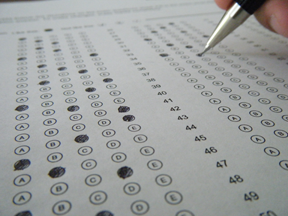 Remark Solutions help thousands of schools worldwide collect and analyze data from tests, quizzes, exams, surveys, ballots, and many other forms. Our products provide flexible, affordable solutions that allow educators to use a variety of hardware (image scanners, multifunction printers (MFPs), mobile camera apps, OMR scanners), various paper options (plain paper or preprinted test bubble sheets), and the ability to export grade information or data to various databases, gradebooks, student management systems, or learning management systems.
Rapid turnaround of test results help you focus your energy where it is needed the most. When you know where your students, teachers, and schools stand academically, you can make adjustments to your curricula to ensure strong performance. Remark products provide the tools to get that information quickly and accurately. When grading test answer sheets, questions can be linked to common core standards, skills, or other learning objectives to provide you with an efficient way to see how students are performing and which students need extra help.
Our plain paper scanning products allow you to use any image scanner to process test bubble sheets. Remark Test Grading is a streamlined test scoring application that allows you to print, scan and run reports on these tests printed on plain paper. Built-in test grading reports provide detailed information on class, student, test and item performance. You can even report on standards or skills covered on the test. All of the reports can be exported as PDF files and the grade information can be sent to gradebooks or learning management systems. Remark Test Grading is offered as a cloud solution or locally installed Windows product.
If your school is looking for a solution for grading test sheets and collecting data from other types of forms (such as surveys or ballots) then Remark Office OMR is your solution. Forms can be created in any word processing application or form design program and scanned with a desktop scanner or scanned with your MFP. Once scanned, the built-in analysis component, Remark Quick Stats®, provides a variety of test grading reports and survey analysis reports. The reports can be exported to a variety of formats including PDF or HTML and data can be exported to spreadsheets, databases, gradebooks, student management systems, or learning management systems.
Sign up for a webinar to see it in action
Do you have an existing OMR scanner and preprinted forms? You can use Remark Classic OMR to process your tests, surveys, and other preprinted forms. Remark Classic OMR works with OMR scanners and forms from Scantron®, Apperson®, Sekonic®, and others. Just like our other Remark products, you can read forms directly from supported OMR scanners and analyze the data in Remark Quick Stats. The software includes a variety of test grading and survey tabulation reports. In addition, you can easily export your reports, data, or grade information to many popular formats.
Download a Free Demo version to try it out
Customer Comments
Mark Richardson, Indian Hill Exempted Village Schools, says, "There is no tool like it.  Such a time saver."
Robert Douglas, Reid Middle School, says, "It gives us the ability to collect common assessment data quickly and easily, and to return actionable information to teachers very quickly."
Susan Voigt, Program and Evaluation and Data Specialist at the Capital Area Intermediate Unit, says, "I can't imagine how we would be able to complete this without software that would scan the answers, grade them, and allow us to run basic statistical information on the results."
Marcellino, Assessment and Evaluation Coordinator at a K-12 Department of Education, says, "Remark Office OMR give us an opportunity to do more in terms of generating reports".
Brenda Roof, District Information Office for Webster Central Schools says, "the data analysis, it is just so powerful." She goes on to say, "Once you have it set up, you can use it over and over again and we do, so that is also a nice feature. We have hundreds of surveys and assessments that we just use year after year!"
For videos on the Remark Solutions, please subscribe to our YouTube Channel.