Attendance Forms
Save time by scanning your attendance forms. There is no need to track student attendance by hand when you can create a plain paper attendance form using the application of your choice, and scan it in using an image scanner and Remark Office OMR®. Then export the data to over 35 different formats (including Excel, Access, ASCII), allowing easy import of your attendance records into a class/school management system.
Create your own attendance sheets in Microsoft Word, like this one. Scan your completed attendance sheets using any of your schools image scanners or multifunction printers into Remark Office OMR. Easily export your data into your student management system.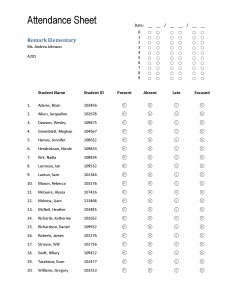 Click here to view the Word document, PDF and demo files (zip) of this sample attendance form.